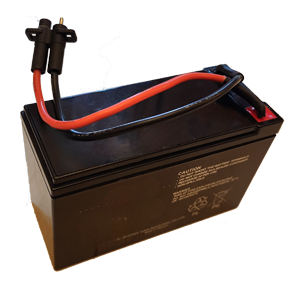 If your Sea-Doo Seascooter Dolphin water scooter is not charging up or is not performing the way it should, by simply replacing your battery with a new one can get you back in the water again. Make your Seascooter Dolphin's run like new again or purchases another battery as a backup for those long summer days. If you have kids, you'll be glad to have some extras on hand.
This battery is a direct replacement for your Seasooter Dolphin, Seascooter XL, the Shaper image Seascooter and the new Classic Pro.
**Always fully charge your Dolphin water scooter battery immediately after purchase and after every use. If the unit is not used for extended periods, it is suggested that it is removed from the seas scooter and placed on the charger to fully charge each month. Never place the battery in a sealed container when charging. To avoid damaging your seascooter battery, you should only use the battery charger that was supplied with the SEADOO® Seascooter™ Dolphin you purchase. If you need another charger we have those available too, please follow this link Sea-Doo Seascooter Battery Chargers.
To store the battery, remove it from the SEADOO® Seascooter™ Dolphin, store it separately from the charging base and keep in a dry, cool place. NEVER expose the battery to excessive heat or sunlight.